KAWASAKI VULCAN 1600 CLASSIC 2003-UP WINDSHIELD
KAW01004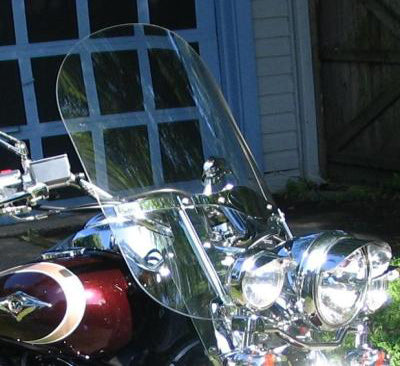 Product Informaion
7Jurock replacement motorcycle windshield for Kawasaki Vulcan 1600 Classic 2003-Up models.

We offer the following sizes:

15"- 26" height

25"-27" width

Available in Clear and light gray.

7Jurock windshields are handcrafted from 0.187 (3/16") thick acrylic specified for optical clarity. Edges are ground and polished to perfection.
Height is measured from the top of the headlight cutout to the top of the windshield. Width is measured at the widest point around the front, following the curvature of the windshield.

7Jurock replacement windshields are only meant to be mounted using the original stock mounting hardware. No mounting hardware, brackets, or kits will be included in the purchase of our replacement windshield.
*7Jurock.com orders are custom-made, and ship within 7 business days.*
SHARE