TRIUMPH ROCKET III Touring (SINGLE HEADLIGHT) 2008-UP WINDSHIELD
TRI01001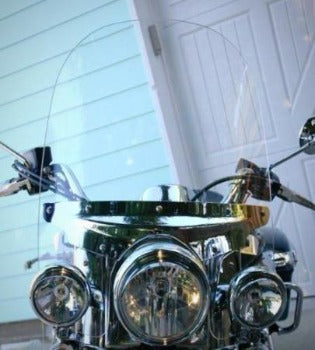 MOTORCYCLE WINDSHIELD
7Jurock replacement windshield for SINGLE HEADLIGHT TRIUMPH ROCKET III TOURING 2008-UP Models. Available in different heights to suit your riding style. 7Jurock offers:  12" - 24" Height, 24" - 26" Width. Handcrafted from 0.187 (3/16") thick acrylic, specified for optical clarity. Available in Clear and Light Gray. All shields are manufactured to order.  Edges are hand ground and polished. All holes are CNC drilled to match your OEM hardware.
Height is measured from the
the top of the headlight cutout to the top of the windshield. Width is measured at the widest point around the front, following the curvature of the windshield.
.
Disclaimer:
7Jurock offers replacement windshields only. No mounting hardware, mounting brackets, mounting kits and/or any accessories (required for installation) will be included with the purchase of our Replacement Windshield. *If you do not currently have the original factory hardware, you will not be able to install our replacement windshield.
*Installation is done by simply removing your existing/current original shield, and replacing it with this one using the same hardware from your previous stock/oem windshield.
SHARE