CAN-AM SPYDER F3-T, F3 LIMITED Tall Boy REPLACEMENT WINDSHIELD
CAN01005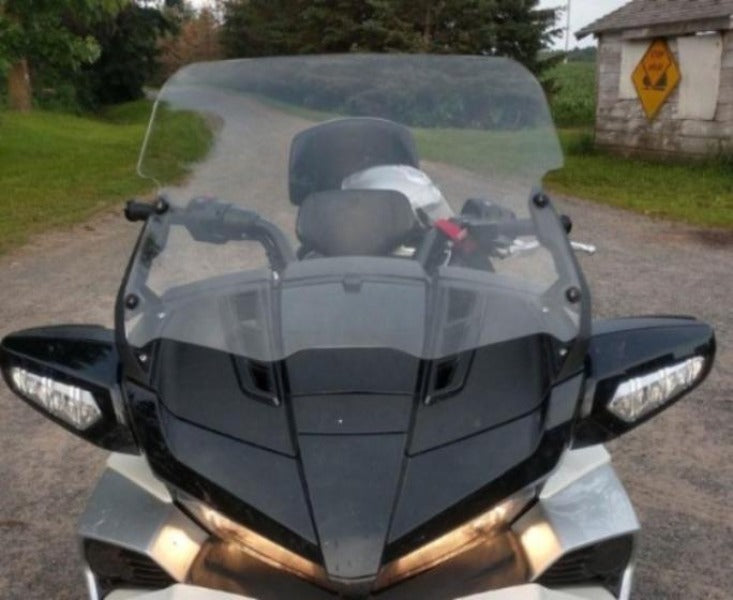 PRODUCT INFORMATION
7Jurock manufactures motorcycle replacement windshields for Can-Am Spyder F3-T and F3 LIMITED
Tall Boy 
2016 -

 
2018
. Available in different height to suit your riding style. 7jurock offers: 20",20.5"(OEM) , 22"  and 24" Height. This windshield offers excellent wind protection for the upper torso. Beautifully handcrafted from 0.250" (1/4") thick acrylic, ground and polished. Available in Clear. All holes are CNC machine drilled to match the factory specifications.
The Can-am Spyder F3-T and F3 LIMITED 
Tall Boy
is designed to protect you from the elements while providing an elegant addition to your motorcycle's image.
Height is measured from the bottom of the windshield to top, along the center. Width is measured near the top from behind, in a straight line.
Disclaimer
7Jurock offers replacement windshields only. No mounting hardware, mounting brackets, mounting kits and/or any accessories (required for installation) will be included with the purchase of our Replacement Windshield.
*If you do not currently have the original factory hardware, you will not be able to install our replacement windshield.

*Installation is done by simply removing your existing/current original shield, and replacing it with this one, using the same hardware from your previous stock/oem windshield. A T25 TORX bit is the only tool required. Screwdriver handle is recommended, do NOT use a ratchet. A GENTLE snugging is all that is required.


*7Jurock.com orders are custom-made, and ship within 7 business days.
SHARE