CAN AM SPYDER RT / RTS FITS 2010-2022
CAN01002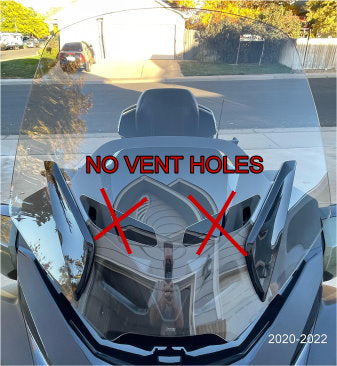 RODUCT INFORMATION
NO VENT HOLES (The big holes)
7Jurock manufactures replacement windshields for Can Am Spyder. Available in different heights to suit your riding style. 7Jurock offers: 21", 23", 25 and 27" Height. Excellent wind protection for the upper torso. Beautifully handcrafted from 0.187 (3/16") thick acrylic, ground and polished. CNC cut and drilled ready to install.

A windshield wider than OEM provided the rider with the best comfort. To improve the known turbulence behind the windshield. Height is measured from the top to the bottom of the windshield, along the center line.

Disclaimer:
7Jurock offers replacement windshields only. No mounting hardware, mounting brackets, mounting kits or any accessories (required for installation) will be included with the purchase of our Replacement Windshields. *If you do not currently have the original factory hardware, you will not be able to install our replacement windshield.

*Installation is done by simply removing your existing/current windshield, and replacing it with the replacement using the same hardware from your previous stock/oem windshield.
This item fits the following applications :
 
                          - 2010 Spyder RT/RT-S
                          - 2011 Spyder RT/RT-L/RT-S
                          - 2012 Spyder RT/RT-L/RT-S
                          - 2013 Spyder RT/RT-L/RT-S 
                          - 2014 Spyder RT/RT-L/RT-S
                          - 2015 Spyder RT/RT-L/RT-S
                          - 2016 Spyder RT/RT-L/RT-S
                          - 2017 Spyder RT/RT-L/RT-S
                          - 2018 Spyder RT/RT-L
                          - 2019 Spyder RT/RT-L
*7Jurock.com orders are custom-made, and ship within 7 business days.
SHARE