BMW R 18 Transcontinental and R 18 B 2021-2022 Windshield
BMW01023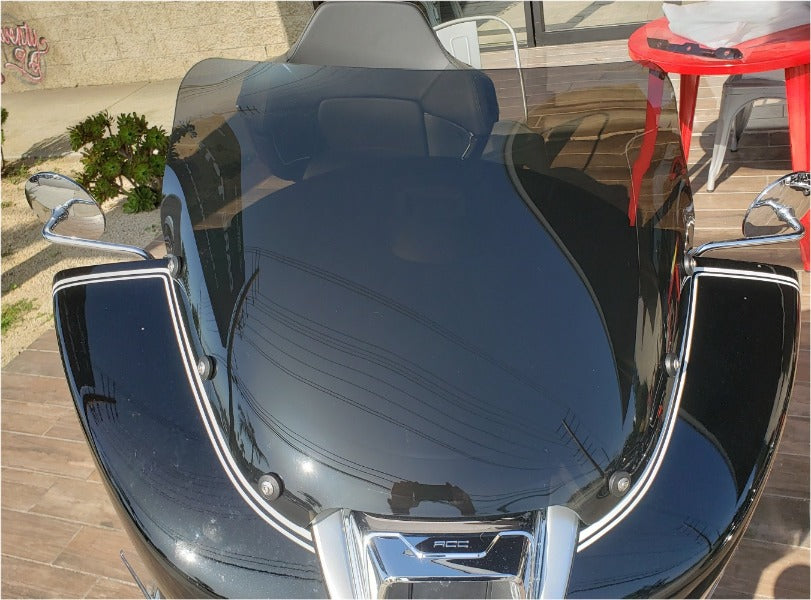 PRODUCT INFORMATION
Color : Light Gray (15% tint)  Dark Gray (85% tint)
7Jurock replacement windshield for BMW R 18 B and R 18 Transcontinental  2021 - 2022.  7Jurock Offers: 17", 18",  19" and  20"  Height. It is available in Clear, Medium Gray and Dark Gray tint. Beautifully handcrafted from 0.187 (3/16") thickness like the original windshield. Made from acrylic, specified for optical clarity. All holes are CNC drilled to match the factory specifications. Edges are hand ground and polished.
Height is measured in a straight line, from the bottom center point to the top of the windshield. 
7Jurock offers a wider replacement windshield for the BMW R 18 B and R 18 Transcontinental to help maximize wind protection and achieve the riding comfort you desire
. 
The side to side curvature has been slightly modified in order to increase arms and upper torso protection for the rider. Our design delivers both comfort and function designed to optimize your overall riding experience.
Disclaimer:
7Jurock offers replacement windshields only. No mounting hardware, mounting brackets, mounting kits and/or any accessories (required for installation) will be included with the purchase of our Replacement Windshield. *If you do not currently have the original factory hardware, you will not be able to install our replacement windshield.

*Installation is done by simply removing your existing/current original shield, and replacing it with this one using the same hardware from your previous stock/oem windshield.
SHARE