BMW K1600 B , K1600 Grand America 2018-2023 Windshield
BMW01020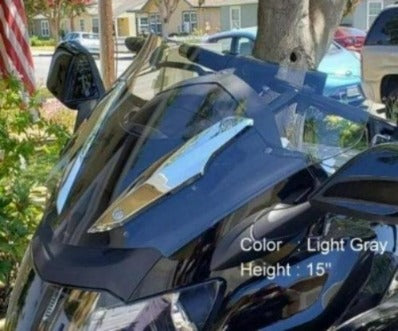 PRODUCT INFORMATION
7Jurock replacement windshield for BMW K 1600 B and Grand America 2018-2023 Models. 7Jurock Offers 15"-22" Height. It is available in Clear, Light Gray (15%), Medium Gray (25% tint) and Dark Gray (85% tint). Beautifully handcrafted from 0.187 (3/16") thick like the original windshield, made from acrylic, specified for optical clarity. All holes are CNC drilled to match the factory specifications. Edges are hand-ground and polished.

Height is measured in a straight line, from the bottom center point to the top of the windshield.
  Disclaimer:
Offers replacement windshields only. No mounting hardware, mounting brackets, mounting kits and/or any accessories (required for installation) will be included with the purchase of our Replacement Windshield. *If you do not currently have the original factory hardware, you will not be able to install our replacement windshield.

*Installation is done by simply removing your existing/current original shield, and replacing it with this one using the same hardware from your previous stock/OEM windshield.
*7Jurock.com orders are custom-made, and ship within 7 business days.
SHARE